World
Adelaide man caught up in Israel-Gaza war while on holiday fears for family still in Palestine
source : www.abc.net.au

When Kamal El-Gadba traveled to Gaza to visit family for the first time in 12 years, he described the beginning of his journey as peaceful and tranquil.
Most important points:
Kamal El-Gadba was visiting family when the conflict between Israel and Gaza broke out
His two daughters in Adelaide informed the Australian embassy in Tel Aviv of his situation
Mr El-Gadba is now back in Adelaide but remains concerned about his family in Gaza
The 62-year-old met the newest additions to his family and caught up on old times with his brothers and sister.
But ten days into his holiday, the Australian citizen said he heard a sound he had never heard before.
It was one he would soon become deeply familiar with.
"I didn't pay much attention to it because I thought they would stop the noise, but I didn't know it was a missile," El-Gadba said.
"But when I heard it was increasing, I started thinking, 'How do I get out of here?'"
The conflict began on October 7 when Hamas militants breached the fence surrounding Gaza, killing 1,400 Israelis, mostly civilians, and kidnapping more than 200, according to Israeli figures.
Since then, Israel has ruthlessly bombed Hamas-held Gaza, killing more than 10,000 people, about 40 percent of them children, according to regional health officials.
As the explosions grew louder every day, Mr El-Gadba said he sat in a bunker with his family and feared he might never see his two daughters in Adelaide again.
"You can't sleep – all day, all night all you hear is bombing," he said.
"Just wait until the bomb comes to you, or behind you or next to you… you don't know."
Without any electricity, internet and often no phone service, Mr El-Gadba said he struggled to reach his daughters, who desperately tried to contact the Australian embassy in Tel Aviv to inform them of his situation.
"They thought, 'My father isn't coming back, he's going to die,' and they were very nervous," he said.
Mr El-Gadba said food quickly became scarce and the family lived on flour and rice.
But the Palestine-born Australian said a lack of water was the biggest problem, especially when fuel restrictions meant water trucks could no longer reach them.
"If they need water, it takes four to five hours in line to get one bottle of water," he said.
"When you get the water you need… it takes ten minutes (to fill) because it drips – no pressure, just dripping water."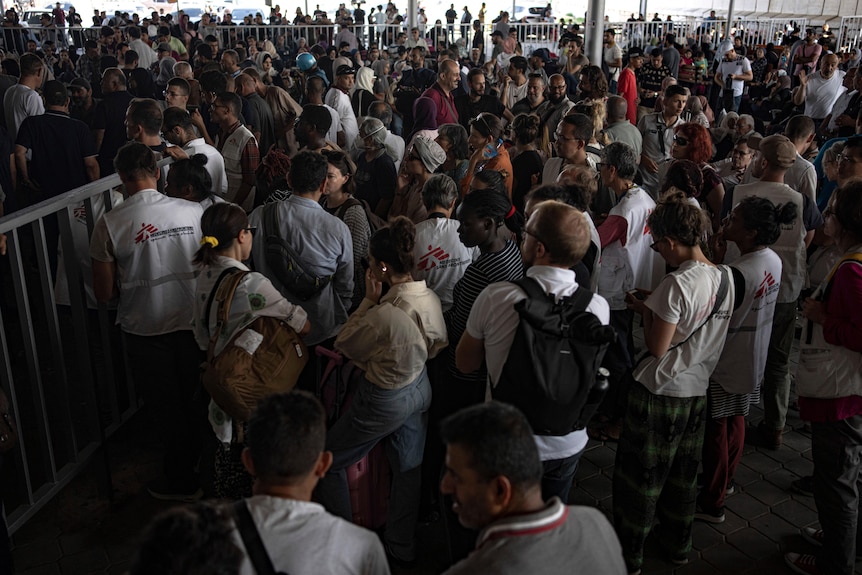 More than three weeks into the war, El-Gadba said he received a late-night phone call telling him to go to the Rafah crossing between Gaza and Egypt.
He said he paid a driver to take him to the border, where he crossed after hours of waiting.
Days later he flew home to Adelaide Airport, where his two daughters were waiting for him.
Mr El-Gadba said he was grateful to be safe at home, but he fears for the safety of his family in Gaza.
"My body is here, but my spirit is with my family there," he said.
"I have brothers, sisters, nephews, nieces… I always think about them."
He said the situation in Gaza is deteriorating every day and he is concerned about the innocent civilians involved in the conflict.
"The civilian population has done nothing… why are you (Israel) killing them?" he said.
"They want to drive all the people out of Gaza – where?"
El-Gadba said he hoped the Australian government would push for a ceasefire.
"You can have your country, we can have our country and everyone lives in peace, but it's clear they don't want that," he said.
source : www.abc.net.au