Australia
Federal government's mail mishap for female founders fund
source : www.theage.com.au

"I look forward to your response to explain your actions, apologize and explain the harm reduction you are now implementing," another respondent wrote.
But here is our winner. "Response to survey: stop bragging.
"Response to an unnamed person who sent the email and then CC'd everyone again: Stop bragging."
The department realized its mistake and hurriedly contacted everyone on the list with sincere apologies.
"This was a mistake on our part and the result of human error," it explained, adding that it would reveal itself to someone – it was not clear who – for the "data breach".
We had a lot of questions for the Industry Department, as you can imagine. We'll let you know if we hear back.
VACANCY LOTS
It's a big job to be in charge of Anthony AlbaneseThe Department of the Prime Minister and Cabinet (PM&C) and a previously overlooked exchange in last month's Senate estimates have shed intriguing light on a little-known but important aspect of the crackdown: finding something to do with discarded Canberra tangerines.
The head of the Ministry of Defense Greg Moriartyunder questioning by the peace-loving Greens senator David Schoenbridgeoffered an illuminating account of the hunt for useful work for the former Department Secretary of Human Services Kathryn Campbell in the weeks before the Albanian government fired her from the top Foreign Office position.
Moriarty told the committee that the boss of PM&C Glyn Davisnew to the job, gave him a shout-out last June, saying that Campbell – who had made a lot of money during her career from her high rank in the military reserve but was irreparably damaged by her role in the robo-debt scandal – was likely to quit soon looking for work and might Defense have a place for her?
Loading
Well, in just a few weeks – a fraction of the public service time – the people of Moriarty were able to create a That $892,000 job advice on the AUKUS nuclear subs program. No wonder those things cost so much.
But Moriarty was not happy with Shoebridge's claim that the job had been 'made up' for Campbell.
"I was offered a very experienced experienced person," Moriarty told his interrogator.
"I found a suitable role for her and a position was created in which that could happen."
You say potato… when Shoebridge asked who had been head of the AUKUS program since Campbell's departure in July, the answer was "no one".
"So the made-up role disappeared when Mrs. Campbell disappeared?" Shoebridge asked.
The work was "redistributed" among two deputies, Moriarty shot back.
DEPTH BOMB
We remain under the sea for a while, where salaries seem sky high. CBD's periscope appeared just after our sonar alerted us to the nearly 33 percent pay increase scored last year by the director of federally owned shipbuilder Australian Submarine Corporation Stuart Whiley.
Deep in the company's latest annual report was the package increase from $827,000 to $1.086 million in fiscal 2023.
That's a handy walk for managing the Port Adelaide-based outfit whose biggest hit remains the Collins Class submarines, which first hit the water 33 years ago.
So we asked ASC, as it prefers to be called these days, what made Whiley a million-dollar man, and a spokeswoman told us the boss's salary was set by the Commonwealth Remuneration Tribunal.
"Last year's increase takes into account a number of factors, including the changing complexity of ASC's operations," she said.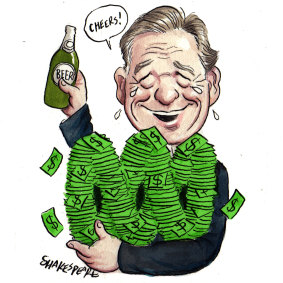 RACE RETURN
Andreas ProbynABC's fortunes have changed since ABC management's interesting decision to make their former political editor and most consistent political news breaker redundant in June.
The unceremonious dumping left Probyn 'stunned' and veteran Press Gallery journalists furious, seeing Auntie Cop angry on both sides. Anthony Albanese And Peter Duton during their usual Midwinter Ball speeches.
That happened just in front of several top officials of the public broadcaster, including the news director Justin Stevens.
The better news is that Probes has since landed a new job as national affairs editor at Nine, which owns this masthead.
And on Tuesday, Probyn won $60 in the ABC press gallery bureau's Melbourne Cup match. Now the entire gallery is open to the entire gallery – most agencies tend to have one – but the irony of Probyn taking home the money was not lost on us.
Start the day with a summary of the most important and interesting stories, analyzes and insights of the day. Sign up for our Morning Edition newsletter.
source : www.theage.com.au