World
McDonald's and Starbucks among major US brands boycotted in Middle East
source : www.9news.com.au

Starbucks, McDonald's, Coca-Cola and Domino's Pizza are being boycotted in the Middle East as the death toll in Gaza continues to rise.
According to local media, major American brands have been targeted in Arab cities such as Cairo, Amman, Beirut, Kuwait and Doha for alleged support for Israel's invasion.
McDonald's stores in the region were banned after the hamburger giant's Israeli franchise sent thousands of meals to IDF soldiers stationed on the Gaza frontline.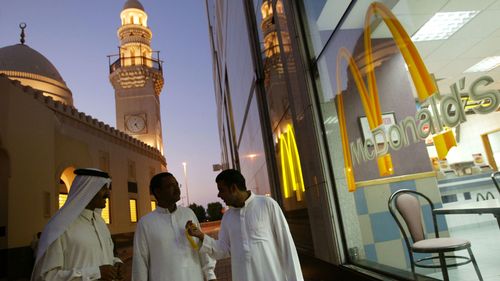 Turkey's parliament last week removed Coca-Cola and Nestlé products from its restaurants over their alleged support for Israel.
The national one
a newspaper in Abu Dhabi, United Arab Emirates, reported that stocks of Pepsi and Coca-Cola held by local distributors have increased in recent weeks due to a slowdown in sales at several outlets and restaurants.
Local news sources reported that McDonald's, Starbucks and Domino's Pizza restaurants have been quiet lately, with customers staying away during usually busy times.
The decline in sales of Western brands offers opportunities for smaller local products, such as carbonated drink Spiro Spathis, to flourish.
Spiro Spathis was founded in 1920 by one of the thousands of Greeks who made Egypt their home, but the drink was eventually overrun by the arrival of Coca-Cola and Pepsi.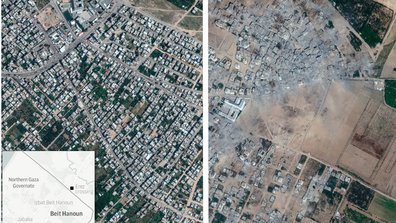 Before and after: satellite images show the damage to Gaza
Demand for Spiro Spathis has increased so quickly that the drinks company has advertised 2,000 new jobs on its social media.
About 250,000 Israelis have been evacuated from communities near Gaza, where Palestinian militants continue to fire rocket attacks, and along the northern border with Lebanon.
"Arab boycotts of US franchises due to the Palestine-Israel conflict highlight the deep-seated emotions and political activism this issue is stirring up in the region," Ehsan Amin, a 35-year-old Saudi, told
Arabic news
.
'Everyone has their way of showing solidarity. Some protest in the streets, others boycott. I have chosen to boycott.
"This serves as a vehicle for my voice to voice Western bias in favor of Israel."
According to the Palestinian Health Ministry, Israeli attacks have killed more than 11,000 people since the war broke out.
Israel launched an offensive after dozens of Hamas gunmen crossed the border on October 7, killing 1,200 people, mostly civilians, and taking more than 240 hostage.
Forty-six Israeli soldiers have been killed in Gaza since the ground offensive began.
The US has pushed for temporary pauses that would allow broader distribution of much-needed aid to civilians in Gaza, where conditions are becoming increasingly dire.
But Israel has only agreed to short daily periods during which civilians can flee ground fighting in northern Gaza and move south on foot along two main roads.
Israel continues to attack militant targets in southern Gaza, often killing women and children.
The war has displaced more than two-thirds of Gaza's population.
source : www.9news.com.au