Australia
Tributes flow for 10-year-old boy Sanad Shahriar
source : www.smh.com.au

The principal of St Lucy's School has paid tribute to 10-year-old student Sanad Shahriar who died after being trapped under a lift at the North Shore school.
In a letter to parents on Friday afternoon, the school's principal, David Raphael, said the community's "thoughts and prayers are with Sanad's family and friends, and with the wider school community, as we mourn the loss of a beautiful boy ".
"It is with sadness that I inform you of the passing of Sanad Shahriar. We understand that this is disturbing news. The school is preparing information that you can use with your child to help them understand Sanad's death," Raphael said.
Emergency services were called to St Lucy's in Wahroonga on Wednesday afternoon, but despite attempts to free him, Sanad died at the scene.
From Monday, each class group at the school for children with disabilities will take part in a special tribute, with guidance and psychologists available for staff and students.
Neighbors and students from nearby schools left tributes at the front door of the campus, with some paper hearts with handwritten messages at the gate.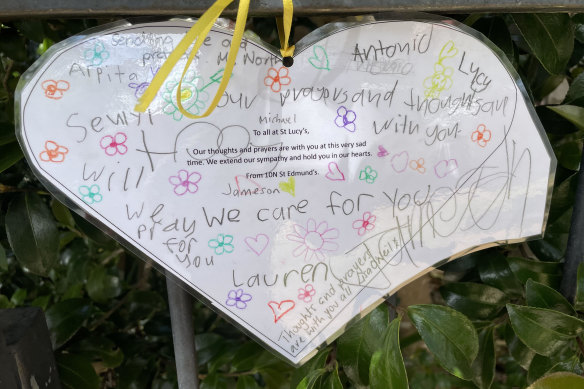 Police remained at the school on Friday and are investigating the incident with SafeWork NSW.
Friends of the family left a tribute on the Bangladesh University of Engineering and Technology alumni Facebook group, of which the boy's father was a member, describing him as "sweet little Sanad".
source : www.smh.com.au